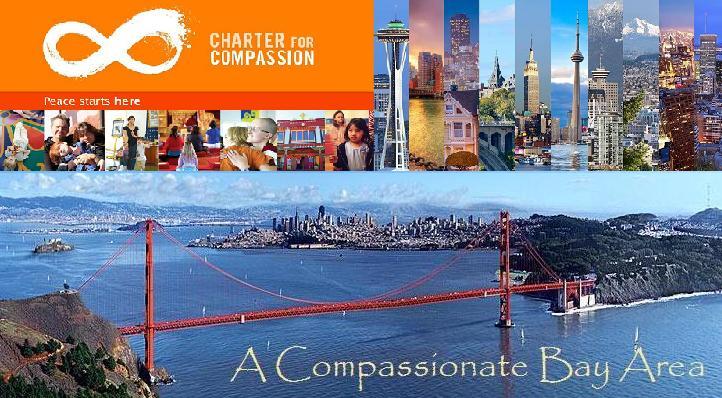 The city of Fremont has set the bar. Let us work together to create a Compassionate Bay Area.
---
I challenge you to affirm that this is a Beloved Community in which we live by starting a campaign to make your town or city a Compassionate City.
Contact the grassroots organization that created the Compassionate City campaign in Fremont and pick their brains. There is no need to reinvent the wheel. They did the heavy lifting; exploit them!

Create a petition for folks in your town or city to sign, urging your city council or other governing entity (in Bay Point it is the Municipal Advisory Committee, or MAC) to adopt a Compassionate City campaign.

Do not just enlist individuals. Go to businesses. Design and print a flier describing how a Compassionate City is a Prosperous City. It is a more livable city, a more pleasant city — good for business!

Send letters to every church or religious or faith group (this includes indiginous peoples and ethical humanist groups) in your community, ask them to join the campaign. If they are a Christian church, they are commanded to preach and to live compassion. It is a charge of their faith tradition. Jews are commanded in both Isaiah and Micah says that the Lord commands us to "… live justly, love mercy and walk humbly with [our] God." Muslims are commanded to defend "people of the Book," meaning Christians and Jews. Contemporary Muslim theologians suggest that all who practice the virtues of Islam — charity, mercy and compassion — and acknowledge the one-ness of God, Allah or however one expresses or regards the Divine is a person of the Book. Any faith tradition that teaches what we know as the Golden Rule is a compassionate tradition.

Ask any peace or social, economic or environmental justice group you know or are connected with to join in a coalition to make this so.
The above are simple, modest points of action. Here are two links to the Charter For Compassion folks:

The Compassionate Community: https://charterforcompassion.org/communities
Charter Toolbox: https://charterforcompassion.org/charter-tool-box-a-framework-for-getting-started

Peace with justice,
Shakurallah Daniel Zwickel ben Avrám MacJean
(son of Jean, son of Abraham and grateful for the many blessings of Allah)
Daniel@PeaceHost.net